Natural Lift Facial Massage (Facial Rejuvenation) is a gentle, non-invasive and natural approach to skincare that can help improve the visible signs of ageing.

This wonderfully relaxing and innovative treatment incorporates a unique blend of highly effective techniques taken from from Indian (Ayurvedic) and Japanese facial massages as well as lymphatic drainage and acupressure - it's a little like reflexology... but for the face!
Tension builds up in our facial muscles from the pressures of everyday life without us even realising -many of my clients end a treatment by saying "I had no idea how much tension I had in my face!"

It can be easy for certain thoughts and emotions to become habitual, locking themselves into expressions on our faces, sometimes over a duration of a whole lifetime.
In this treatment, a precise technique is used to work the face systematically stimulating the healing blood flow of micro circulation as well as elimination through our lymph system.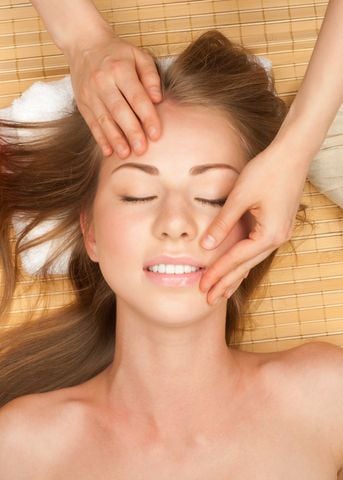 By freeing the constrictions within our many facial muscles (we have around 40!) and their connective tissues, deep-seated tension is released which is what helps us to look younger!

Benefits of this treatment include:Improved elasticity of the skin
Improved skin tone and overall complexion
Reduced wrinkles, habitual expression lines & under-eye puffiness
Increased elimination of toxins
Brighter complexion & more alert eyes
Gradual softening of facial lines
Relief of stress-related symptoms such as headaches, eye-strain and sleeplessness
Helps with sinus drainage which encourages deeper breathing and an overall relaxed state
The overall experience is a mesmerisingly relaxing treatment and lasts for approximately one hour. It includes massage to hands and arms, neck and shoulders, face and scalp massage. It is a great facial treatment for men as well as women as is deeply relaxing however not best suited to those sporting facial hair!
Hi Judy, I had to write in praise of the effect the facial lift massage had on me ... my face still feels lighter and smoother now ...a week later!

I've never really been one for facials, having always preferred a deep tissue back massage but this has to be without doubt my favourite treatment of yours yet. It was so relaxing I melting away on the bed and the tension released from my head was out of this world.

I also couldn't believe the instant effects on my face which were noticed by daughters and friends - people were asking what I'd had done! My eyebrows done? A face peel? My skin was brighter and looked fresher and NO forehead lines or frown marks !

Who needs Botox when you can do it completely naturally?! The second one a week later has had the same amazing effect , so it's a regular treatment from now on for sure .
Simply awesome ...thank you so much X
Get in touch here to book your appointment or arrange a Gift Voucher!